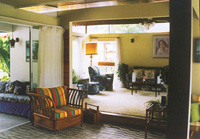 Large-format floor to ceiling glass louvers and sliding doors under wide extended eaves provide a constant connection between the lush green foliage of the exterior gardens and the surrounding Maraval hills leading into the Maracas mountains.
The elegant and calming split level Entry and Living Rooms embraced by the surrounding deep green lawns, colorful bursts of tropical flowering trees and shrubs and a semi-internal courtyard dotted with tropical palms offer a peaceful respite from the bussling city atmosphere.

Along the access corridor to the guest suites and rooms, one walks alongside this lush private courtyard, seen through full length expanses of large, flat and permanently opened wooden louvers.